Praxis'15 Forum Project Work and Internship: Ways to Employability
Praxis'15 Forum is hosted at ERACON Congress and Exhibition 2015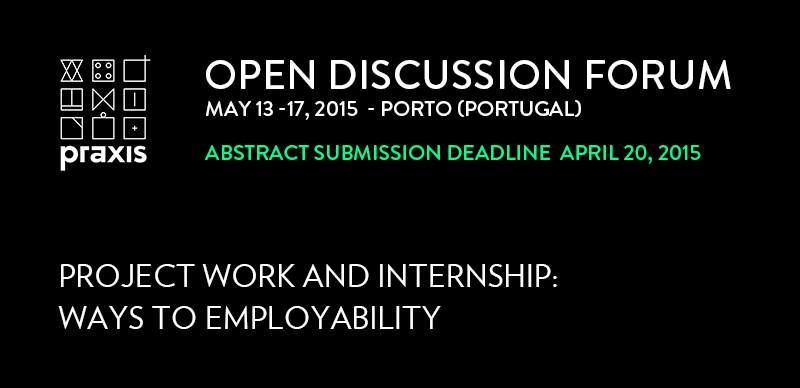 Main topics
Project work and internship
Students' employability
Cooperation between education and work
Internationalization of education
Employability players and features (60 min) - CELM thematic session
Chair: Nuno Escudeiro
Speakers: Nuno Escudeiro "Ways to employability",tba
Description: the purpose of this thematic session is to discuss the role of the key players – such as higher education institutions, companies and the students themselves – and the key features of employability – such as responsibility, curricular approaches to employability, private initiatives, project work and internships, volunteering. The session will consist of several paper presentations followed by a discussion.
(PS) Roundtable – project work and internship mind-map (90 min)
Chair: Tatjana Welzer, University of Maribor, Slovenia
Speakers: tba
Description: A few (3 or 4) short presentations (10 to 15 min each) on the subject of project work and internships followed by discussion and real time building of a mind-map/ontology /domain model for the project work and internship tutoring paradigm.
(W) Opening the labour market to higher education (60 min)
Chair: Nuno Escudeiro
Description: A hands-on session on the Praxis portal and associated services/tools (Facebook, LinkedIn, Twitter, …). It includes a presentation of Praxis portfolio followed by a demo and a discussion period. Then the participants are invited to use Praxis, to check the available information, the documentation and the news and to register and start enjoying Praxis. After this session the participants will be aware of all Praxis features and will be able to use Praxis to benefit themselves and their students.
CELM interest group annual meeting
Chair: Nuno Escudeiro
Description: the annual meeting of the EAEC STIG CELM is targeted for the current members and anyone wishing to join the group. We will review the work and the outcomes of the first year of the group and draft the work plan for the next year (May 2015 to April 2016). The main topics to be worked out during the next year will be established. We will have a presentation and a demo of the EAEC STIG groupware platform.
Duration: 45 minutes