Project Work and Internship: impacts on labour market and society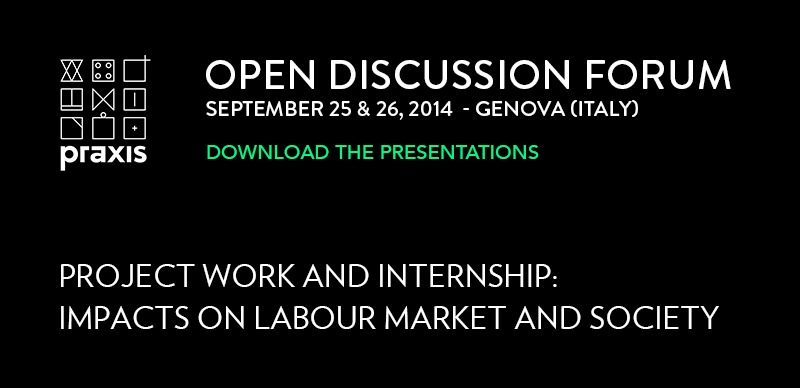 Our last event was on September 25 & 26, 2014 in Genova, Italy.
The PRAXIS'14 forum brought international experts, companies, student organizations, chambers of commerce, professional and employer associations, business and government representatives, students and universities together to exchange opinions, present best practices and share experiences about how project work and internship influence the labour market and society.
You were not able to join the event? Or you want to revise some presentations?
Below you can find the programme and all the presentations.
Programme & Presentations
Opening
Nuno Escuderio, ISEP, PRAXIS project coordinator (DOWNLOAD PRESENTATION)
Plenary session
Round table
Session 1
Session 2A
Session 2B
Session 3
Session 4
DOWNLOAD THE COMPLETE PROGRAMME IN PDF-FORMAT.
More information & contact
If you didn't find the answer on your questions, don't hesitate to contact us.
Conference Secretary: CONFERENCE@PRAXISNETWORK.EU
Hosting & Organising team: MILVA CARBONARO
Programme Committee
Prof. Dr. Nuno ESCUDEIRO
PRAXIS Coordinator, Instituto Politecnico do Porto, Portugal
Senior Lecturer Anthony WARD
Provost Alcuin College, University of York, United Kingdom of Great Britain
Dr.eng. Agnieszka KLUCZNIK-TORO
International Center for Entrepreneurship, Bukowice, Poland
Msc. Milva CARBONARO
GISIG- Geographical Information Systems International Group, Genova, Italy
Prof. Dr.Tatjana WELZER
Faculty of Electrical Engineering and Computer Science, University of Maribor, Slovenja
Dr. Marko HOLBL
Faculty of Electrical Engineering and Computer Science, University of Maribor, Slovenja
Prof.Dr. eng. Hubert ROTH
Chair of Automatic Control Engineering, Faculty of Natural Science and Engineering, Siegen University, Germany
Dr. Adam PAWELCZYK
Faculty of Chemistry, Wroclaw University of Technology, Poland
Dr. Gregory MAKRIDES
President of European Association of ERASMUS Coordinators, Director of Research and IR, University of Cyprus
Lect. Dr. eng. Sorin NANU
Faculty of Automation and Computer Science, "Politehnica" University of Timisoara, Romania
Dr. Ferenc KISS
Vice_rector for Research, Budapest College of Communication and Business, Hungary
Local Committee
Prof. Fabio LAVAGETTO
Vice-Counselor, Deputy for Research and Technology Transfer, University of Genova, Italy
Prof. Maria CARNASCIALI
University Deputy for Guidance activities and the relationships with the school world, University of Genova, Italy
Msc. Chiara CERVINI
Human Resources Responsible, IREN Acqua Gas, Italy
Prof. Gustavo CAPANNELLI
President, TICASS - Tecnologie innovative per il Controllo Ambientale e lo Sviluppo Sostenibile , Italy
Msc. Nicoletta PICCARDO
Training activities coordinator, TICASS - Tecnologie innovative per il Controllo Ambientale e lo Sviluppo Sostenibile, Italy
Supported by



Under the patronage of